Victor Reinz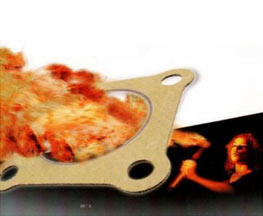 Mercer Gasket & Shim is proud to be an authorized reseller of Victor Reinz gasket materials for a wide range of industrial markets and applications.
Victor Reinz has long been a pioneer in gasket innovation, representing the most advanced sealing technologies and meeting the automotive and industrial communities' most demanding and complex sealing requirements. Today, the brand is synonymous with superior sealing and innovative gasket technology of the highest caliber.
Victor Reinz Gasket Materials from Mercer
As an authorized reseller of Victor Reinz gasket materials, Mercer utilizes premier metal, non-asbestos, and mica materials in our gaskets. Our commitment to quality is represented not only in the gasket materials we carry but in our focus on providing a range of customization services in-house.
We can cut materials in custom shapes and sizes to provide gaskets that meet customers' unique specifications. Utilizing our laser cutting, waterjet cutting, knife cutting, and die cutting service capabilities, we can produce gaskets that fit the specific needs of our customers, whether for an existing application or for a new project.
Contact Mercer Gasket to Learn More About Victor Reinz Products
Mercer works with companies in a range of industries. If you are interested in learning more about what we can offer your company, including the types of services we provide, the equipment we utilize in-house, or the materials we frequently work with, contact us directly here.
We also maintain a detailed resource library in which you will find materials and equipment lists, chemical resistance charts, and additional tools and resources to help you determine the best gasket options for your project.
Contact us today to learn how Mercer can make Victor Reinz's internationally recognized sealing products work for you.