Rubber cork — a combination of milled cork grain and synthetic rubber — is a specifically formulated material that has been at the forefront of gasket technology since the 1970s. Also referred to as cork rubber, this material is available in many different sizes and variations, and is used in a broad range of applications and industries.
A combination of first grade granulated cork and rubber polymer such as natural rubber, synthetic rubber, silicone, nitrile, EPDM, or neoprene, rubber cork is held together with glycerin-glue applied under heat and pressure. The resulting formulation, about 70% cork grain and 30% rubber, is highly resilient and compressible with minimal sideways flow, making it an optimal sealing and chemical solution for modern gasket applications.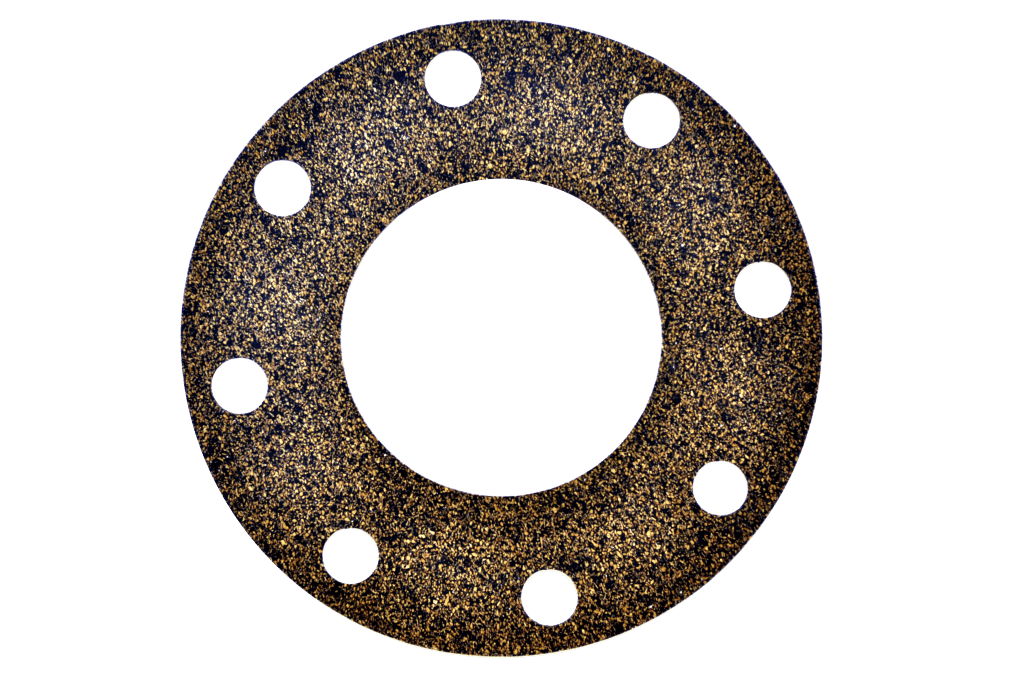 Advantages of Rubber Cork
The individual properties of rubber and cork combine to make a highly resilient formulation for volatile and rigorous environments. Rubber cork provides strong resistance to oil, solvent, and fuel, as well as moderate resistance to fungus, acid, and extreme weather conditions. With the ability to withstand sideways flow, rubber cork is also impact resistant, shock absorbing, and resistant to fluid penetration.
In addition to the physical and chemical resiliency of this material, other benefits of rubber cork include high compressibility and flexibility (characteristics of cork and rubber, respectively) and a wide range of fluid compatibility. It can be used with or without a pressure sensitive adhesive (PSA) backing, as it is already an anti-slip material. As such, rubber cork also provides acoustic insulation and reduces levels of transmitted vibration.
Typical Applications and Industries
Die cut rubber cork sheets are available in a range of sizes, densities, and thicknesses for a variety of applications such as gaskets, spacers, bumpers, protective pads, stripping, electrical transformers and switchgear, and more. The versatility of rubber cork allows it to fulfill specific requirements for many industries including automotive, aviation, railroad, shipping, agriculture, petroleum and electrical.
Why Mercer Gasket?
At Mercer Gasket & Shim, we offer full face, square, and rectangular rubber cork gaskets, made either in one-piece construction or dove-tailed for larger jobs. We maintain a large inventory of rubber cork products in our 50,000 square foot manufacturing facility, allowing for a rapid turnaround of parts for our customers.
For more information about the benefits of rubber cork gaskets and rubber gaskets or to learn more about how to incorporate this versatile material into your industrial application, contact Mercer Gasket today.