O-Rings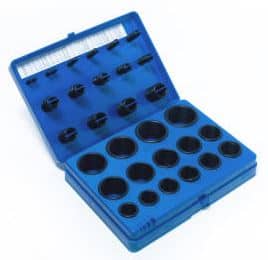 Mercer Gasket & Shim is a trusted source for custom O-ring products that provide high-performance service in extreme environments with varying exposures to chemicals, pressures and temperatures.
Our highly knowledgeable manufacturing team uses a hands-on approach to manage customers' sealing projects from concept and seal validation through prototyping and production.
O-Rings to Fit Your Application
Mercer offers a wide range of standard O-ring products, in both imperial and metric sizes and standard cross-sections, which are held in stock for immediately delivery. We offer O-ring kits, quad rings, O-ring cords, vulcanized O-rings and encapsulated O-rings for maximum sealing capability.
Custom O-rings can also be manufactured to individual specifications as applications demand. Mercer can manufacture O-rings based on your blueprint or reverse-engineer an existing component to obtain CAD data that match the original as-designed dimensions.
Using in-house capabilities, we can manufacture custom o-rings with cross-sections from 0.062″-2.0″ and diameters as small as 0.03125″. Our in-house capabilities make it possible to precisely match the very specific needs of your facility or application.
Mercer provides O-rings in a number of certified elastomer materials with unique formulations, including:
Buna/Nitrile
Butyl
EPDM
Kalrez
Neoprene
Pure Gum
Silicone
PTFE
PTFE – Encapsulated
Urethane
Viton
Mercer's materials professionals are experts in polymer technologies and will assist you in choosing from the ideal material based on the unique physical properties and cost parameters of your application.
Visit our Materials Guide for guidelines on the performance of materials available for Mercer O-rings.
Contact Mercer Gasket & Shim with Questions
If you are interested in learning more about O-rings or our custom capabilities, contact Mercer Gasket & Shim and ask to speak with one of our experts. We can help you select the right elastomer material for your project, evaluate the needs of your o-rings, and develop a custom solution that fits them.