Metal Shims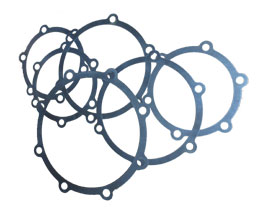 Mercer Gasket & Shim specializes in manufacturing custom shims and spacers for industrial OEMs, power generation, and petrochemical industries.
Shims are thin pieces of material that are used to fill up the small spaces or gaps that exist between two objects. They serve many purposes, including providing support, adjusting fit, or leveling out uneven surfaces. Many industry professionals create shims from whatever materials are available when needed. However, higher-quality shim stock is available commercially in a variety of materials, including wood shim stock, plastic shim stock, and metal shim stock.
At Mercer Gasket & Shim, we specialize in the design and manufacture of custom shims and spacers for industrial OEMs, power generation, and petrochemical industries. Equipped with over 80 years of experience developing and delivering custom industrial product solutions, a highly-skilled manufacturing team, and high-tech manufacturing equipment, we have what it takes to produce shims and spacers in virtually any shape, size, or complexity.
Our Custom Metal Shim Capabilities
The experts at Mercer provide a full range of services to help customers find the right metal shim for their applications. Our engineering assistance, CAD design, and computerized reverse engineering capabilities support the development phase, while our precision waterjet and laser cutting capabilities turn the final design into reality.
We accommodate custom shims with the following specifications:
Thickness: .001 inches (.0254 millimeters) to 5 inches (127 millimeters)
Length: up to 144 inches
Width: up to 144 inches
Tolerances: ±.005 inches (.127 millimeters)
They are available in prototype, low-volume, and short production quantities. Rush, same-day turnaround, and next-day services are available upon request.
Our Shim Material Options
We offer a broad selection of premium-quality metals with full traceability for our custom shims, including:
Aluminum
Brass
Copper
Hastelloy
Inconel
Lead
Monel
Nickel
Soft Iron
Carbon Steel
Spring Steel
Stainless Steel
Titanium
We can also work with reinforced composites (e.g., Micarta) and plastics if needed. Whether your application calls for metal, plastic, or composite shims and spaces, our knowledgeable team members will carefully evaluate your performance and compatibility criteria to help you identify the material that best suits your needs.
Industrial Applications
Our custom shims and spacers find application across a wide range of industries, including:
Aerospace
Automotive
Biotechnology
Chemical
Construction
Electrical
Electronics
Fitting
Food Processing
Genetics
HVAC
Machinery
Marine
Medical
Military
Mining
Nuclear
Oil, Gas, and Petroleum
Optical
Packaging
Pharmaceutical
Plumbing
Pneumatics
Power Generation
Process Piping
Pulp & Paper
Pumps
Refining
Semiconductor
Industry Standards
We are fully committed to providing our customers with the highest quality custom shims and spacers. This commitment is reflected by our compliance with numerous industry standards and specifications:
American National Standards Institute (ANSI)
American Society of Mechanical Engineers (ASME)
American Society for Testing and Materials (ATSM)
Department of Transportation (DOT)
Food And Drug Administration (FDA)
International Organization for Standardization (ISO)
Military Specifications (Mil-Spec)
Restriction Of Hazardous Substances (RoHS)
---

Quality Custom Metal Shims From Mercer Gasket
At Mercer Gasket & Shim, we supply high-quality custom metal shims and spacers to customers in a wide range of industries. By partnering with us for their custom shim and spacer needs, they benefit from our extensive custom product manufacturing experience, state-of-the-art manufacturing equipment, and a knowledgeable and skilled manufacturing team. These qualities enable us to manufacture custom metal shims of nearly any size and shape for virtually any application.
To learn more about our custom metal shim capabilities, contact us today. To discuss your specifications with one of our experts, request a quote.