Metal Gaskets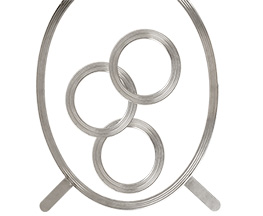 Mercer Gasket & Shim has been a premier manufacturer of custom metal and metal jacketed gaskets for more than 80 years. 
Utilizing a modern manufacturing facility and a team of knowledgeable gasket experts, today Mercer provides solid and jacketed gaskets in any metal – from aluminum and copper to Inconel and titanium – in any thickness, with unlimited pressure capabilities and wide chemical resistance.
Mercer manufactures metal and metal jacketed gaskets for heat exchangers, compressors, condensers, pumps, valves, and turbines. We provide all metals for jacketed, double jacketed, corrugated, wire, solid, profile, shims and spiral wound gaskets.
Jacketed: A gasket of one material is jacketed with a metal layer. The jacket can partially or completely cover the filler. Download our Materials Guide for more information on metals and fillers.
Solid Metal Gaskets
Solid metal gaskets are used in applications where temperatures and pressures rule out the use of traditional gasket materials. In general, gasket compression loads need to be high to deform the gasket, and the metal used for the gasket should be softer than the metal in the mating surfaces.
350
Flat Solid: Cut from sheet metal, these gaskets can be of unlimited size and shape. mating surfaces need to be perfectly aligned and flat for metal gaskets to provide good seals.
360
Profiled and Serrated: A solid gasket with surface grooves facilitating a good seal with lower seating stresses. These styles can be jacketed to protect the flange surfaces.
315
Corrugated: Made from thin metal, these gaskets provide a seal at low seating stress. They may be surface-treated with ceramic, non-asbestos or flexible graphite, or they may be used with a PTFE envelope.
Specialty Metal Gaskets & Shims
Spiral Wound Gaskets: For high temperature, high pressure applications with a low seating stress. Mercer carries a large inventory of spiral wound gaskets in stainless steel with Grafoil, Non-asbestos, or PTFE. We also provide all custom sizes and materials.
ElastaGraph: A corrugated gasket made of seamless flexible graphite over a metallic core. A high density inner ring increases sealability. For high temperature, high pressure applications with low minimum seating stress.
Heavy Cross-Section: Proprietary high-pressure sealing systems have mating surfaces into which fit rings of a specific cross-section (API ring joint-oval, octagonal, BX, RX; delta; lens; Bridgeman; round; etc.)
Seal Strips: For use in heat exchangers, boilers and condensers, these parts are made of multiple layers of metal which are tack welded together.
Shims: For use as spacers, we cut these parts in all shapes, sizes and metals.
With our capacity to manufacture custom metal gaskets in virtually any size, shape or profile, Mercer has set the standard for delivering high-performance metallic gasket and metal jacketed gasket solutions for complex and demanding sealing applications, from heat exchangers, compressors and condensers to pumps, valves and turbines.
See our Materials Guide for more information on the wide variety of metallic gaskets we offer.