Hose & Fittings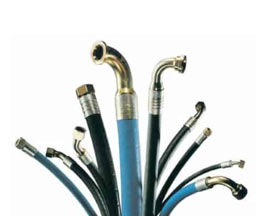 Mercer Gasket & Shim is a premier provider of high-quality custom hose, fittings and tubing that meet the performance criteria of a diverse range of industries.
Our knowledgeable staff's expertise in fluid system dynamics, port configurations and materials technology enables Mercer to provide engineering support to ensure products are durable and compatible with your fluid flow system.
At Mercer, every hose and fitting is specifically designed and tested to match and exceed our customers' unique demands and required standards, including those that involve severe temperatures, high pressures, aggressive chemicals, high purity or hazardous conditions. Tightly controlled manufacturing processes, combined with strict test and inspection protocols, ensure our products' long-term reliability and durability even under the most extreme operating conditions.
Explore our wide variety of available hoses, plastic tubing, fittings, clamps and related services below:
Hose Types
Acid
Air
Ducting
Chemical
Composite
Concrete
Dredge Sleeve
Dust Control
Fire
Flexible Metal
Food
Fuel
Gasoline Pump
Hydraulic
Lay Flat
Marine Exhaust
Mill
Paint
Petroleum
Transfer
Pneumatic
PVC
Sandblast
Spray
Steam
Suction
PTFE Lined
Vibration
Reducing
Water
Flexible Metal Hose
Braided
Bronze
Corrugated
Hot Tar/Asphalt
Interlocked
Monel
Stainless Steel
PTFE Lined
Tubing
Latex
Neoprene
Nylon
Nylon Reinforced
Polyethylene
Pure Gum
PVC
Rubber
PTFE
Services
Banding
Coupling
Crimping
Testing
Labeling
Fittings
Auto-Locking
Dry-Break
Cam and Groove
Chicago
Encapsulated
Fire
Flanges
Garden
Hydraulic
Quick Disconnect
Sanitary
Steam
Swivel Joints
PTFE
Universal
Valves
Clamps
Worm Drive
Bolt
Band
Ferrule