Extruded & Molded Gaskets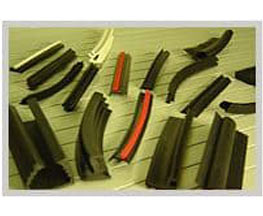 Mercer Gasket & Shim is a trusted provider of custom extruded and molded gaskets in virtually endless configurations.
Utilizing FDA-approved elastomers, including silicone, Viton and Neoprene, our high-quality extruded and molded gaskets are available in a variety of materials, sizes and cross-sections, and are used across a wide range of industries and applications.
You can review a partial list of the industries in which Mercer's extruded and molded gaskets have been used, or you can contact us directly and ask to learn more about how we can match a custom gasket to your application.
Choosing the Right Extruded & Molded Gasket for Your Needs
Mercer's reputation for excellence has been built on the foundation of providing our customers with the most effective sealing solutions to meet their most demanding, individual applications. That is why we tailor our products and processes to suit clients' specific requirements.
Our highly skilled team of engineers will work with your current designs, or will work with you to design the gasket or seal unique to your needs. We will then fabricate your extruded or molded gasket to the most exacting tolerances. If a custom length is required, gaskets can be made using a standard cross-section extrusion. If a custom cross-section is needed, tooling can be made.
Request More Information from Mercer Gasket & Shim
See our Materials Guide for more information on elastomers available for our extruded and molded gaskets. You can also download a guide to elastomer materials we commonly use, or if you would like to discuss your options based on specific factors in your industry or application, you can reach out to one of our many experts on this page.