Custom O-Rings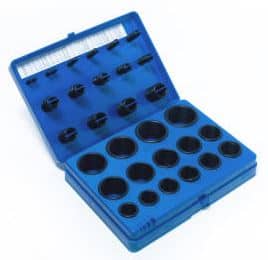 Reliable and responsive, Mercer Gasket & Shim is an industry leading source for custom O-ring products.
We offer a wide selection of certified elastomer materials with unique formulations that provide high-performance service in the most extreme environments with varying exposures to chemicals, pressures, and temperatures. Our manufacturing team uses a hands-on approach to manage your sealing project from concept through to seal validation, prototyping, and production.
Our materials experts have a solid understanding of polymer technologies and will assist you in choosing the exact material based on the physical properties and cost parameters of your application. Custom O-rings are available in cross-sections from 0.062"–2.0" (1.5748–50.8 mm) with diameters small as 0.03125" or as outsized as 600.0" (0.7937–15,240 mm) for large scale specialty applications. We can manufacture O-rings based on your blueprint or reverse engineer an existing component to obtain CAD data that matches the original as-designed dimensions.
We operate with maximum agility and are committed to providing you with a premium quality product within demanding time constraints. Specializing in rush services, we offer the industry's fastest turnarounds and competitive pricing. For materials, applications, and industries served, see the table below. Contact us at any time if you would like to discuss your next application.
Custom O-Rings' Specs
General Capabilities
Material Recommendations
Engineering Assistance
Computerized Reverse Engineering
PMI Services
O-Ring Materials
Buna/Nitrile
Butyl
EPDM
Kalrez
Neoprene
O-Ring Kits
PTFE
PTFE – Encapsulated
Pure Gum
Quad Rings
Silicone
Urethane
Viton
Cord Stock
Gasket & Seal Characteristics
Electrical Insulating
Low Pressure
Low Temperature
High Pressure
High Temperature
Pipe
Ring
Wrap Around
Resistances
Abrasion
Acids
Alkalis
Corrosion
Detergents
Grease
Oil
Rust
Salts
Steam
Spark
Water
Diameter
Min (ID)
.03125 in
.7937 mm
Max (ID)
600 in
15240 mm
Cross Sectional Diameter
Min
.062 in
1.5748 mm
Max
2 in
50.8 mm
Production Volume
Prototype
Low Volume
Small Run
Lead Times
Specializing in Rush Services
Same Day Turn Around
Next Day Services
24 Hour Service
Additional Information
Industry Focus
Aerospace
Automotive
Biotechnology
Chemical
Construction
Electrical
Electronics
Fitting
Food Processing
Genetics
HVAC – Heating, Ventilation, and Air Conditioning
Machinery
Marine
Medical
Military
Mining
Nuclear
Oil, Gas, Petroleum
Optical
Packaging
Pharmaceutical
Plumbing
Process Piping
Pneumatics
Pulp & Paper
Pumps
Refining
Semiconductor
Valve
Industry Standards
ANSI – American National Standards Institute
ASME – American Society of Mechanical Engineers
ASTM – American Society for Testing and Materials
DOT – Department of Transportation
FDA – Food And Drug Administration
ISO 9001:2008 – International Organization for Standardization
Mil-Spec – Military Specifications
RoHS – Restriction Of Hazardous Substances (Compliant)
File Formats
AutoCAD (DWG,DXF)
JPG or JEPG – Joint Photographic Experts Group
PDF – Portable Document Format
TIFF – Tagged Image File Format