Ceramic Fiber Gaskets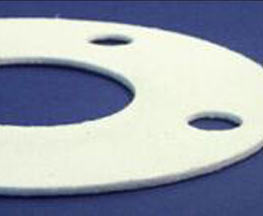 Mercer Gasket & Shim provides high-quality ceramic fiber gaskets for high-temperature applications.
Often used as high-temperature insulation for sensitive apparatus and in the containment of fuel, gas and small particles, Mercer's ceramic fiber gaskets are ideal for use in industries such as oil and gas.
We offer a full line of material options and capabilities for forming custom ceramic fiber gaskets to fit your specific needs. Read below to learn more or contact us from the links on the right to ask what options are best for your application.
Ceramic Fiber Gaskets Are Ideal for Diverse Applications
Mercer offers a wide range of shapes in the design of ceramic fiber gaskets, including rope, flat and Tadpole for temperatures up to 2300°F.
Appropriate when an inexpensive heat seal is required in an environment with low sealing pressures, Mercer's ceramic fiber gasket material is soft, lightweight and resilient, and possesses superior thermal characteristics. Because it can be easily laminated to form thicker seals, flange finish is not crucial when using this material, providing additional flexibility when choosing a gasket.
Our modern manufacturing facility, combined with our highly knowledgeable engineering team, enables us to meet all of our customers' specifications and tolerance requirements in the design and manufacture of ceramic fiber gaskets.
Contact Mercer Gasket & Shim Today
Visit our Materials Guide to learn more about the materials used in our ceramic fiber gaskets and to explore the variety of additional specialized materials we can fabricate products from, including fiberglass, vegetable fiber and cork rubber.
If you have additional questions about the best material match for ceramic fiber gaskets in your application, contact the experts of Mercer Gasket today. We can discuss with you all of your options and determine which options from our expansive material list will best fit those needs.